Local Cab Services | Taxi Cabs Service Near me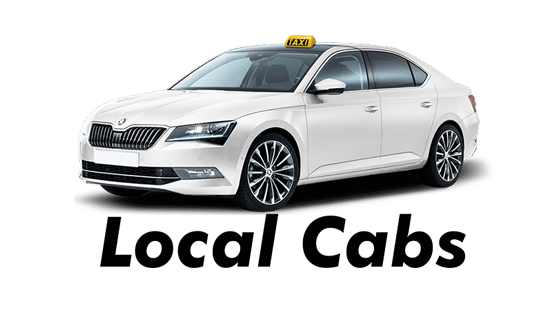 In Hyderabad, Ridecabs Services Hyderabad  provides local taxi services. Ridecabs Services Hyderabad  is an Indian taxi company that provides one-way and round-trip services. We offer local taxi cabs. We provide all types of vehicles, both air-conditioned and non-air-conditioned, on a ONE-WAY FARE. Customers can book a cab in Hyderabad either online or by calling our customer support number, which is available 24X7 . There are no hidden costs or fineprint in the booking process, which is extremely transparent, intuitive, and streamlined.
In four simple steps, you may hire a cab:
Hyderabad Local Full Day Cab
Local full day cab rental service in Hyderabad is nothing more than a small CCR package for local city use, often known as the 8/80 package. 8/80 means 8 hours and 80 kilometres, which implies that the customer can use the cab for 8 hours and 80 kilometres. If the client wants to use the cab for an extra hour or km, please see the fare information above.
Local full day cab rental service in Hyderabad is useful for travellers who want to travel within Hyderabad city and see the sights. This service is available at different sites around Hyderabad, including the airport, railway station, bus station, and hotels. You can book a car of your choice using our website's online booking service. A wide choice of cars/cabs/taxis, including luxurious cars, air-conditioned cars, non-air-conditioned cars, classic and new model cars, and so on, are available for hire at reasonable rates. Make your travel plans in Hyderabad with our online car rental company, which provides a reliable and cost-effective service. Our online car rental company provides smooth and safe transportation within and around the city, putting an end to your search for a better local cab hire service in Hyderabad. You plan a trip to Hyderabad, where you will see various tourist and religious sites. Our full-day local cab hire service in Hyderabad aims to give travellers a better travel experience. If you are planning a trip to Hyderabad, book your car early to ensure a comfortable journey across the city. Our online car rental service in Hyderabad provides a hassle-free travel solution that gives consumers a pleasant and memorable experience.
Affordable Local Cabs in Hyderabad
Drop Taxi Services in Hyderabad
► Ridecabs Services Hyderabad  provides a simple and convenient local taxi cab service.
► We provide local drop taxi services to get around Hyderabad.
► We provide affordable Hyderabad Local Cab services throughout the city.
► With cab services Hyderabad, you may pay less and travel more.
► Local Drop Cabs in Hyderabad are available 24/7 at reasonable rates.
► Customer service is available 24/7
► Pickup and drop-off on time
Features of Cab Services in Hyderabad
Some of the features of our cab services are as follows:
Cab Services Hyderabad is committed to keep the pricing as simple and clear as possible. So, we provide one price for your Hyderabad taxi which covers a specified maximum kilometer and maximum days. So, you know upfront how much taxi is going to cost you and plan your budget well.
The prices are dynamic and transparent and give a win-win deal for both you and our partnered taxi services providers. You can choose car as per your preference.
► Cabs that are clean, serviced, and well-maintained
► Drivers with extensive experience
► 24 hour service that is dependable
► The most affordable rate
► Pickup and drop-off at your door
► Bookings are accepted at any time
► Pickup and drop-off on time
Taxi Fare Ridecabs Services Hyderabad  is dedicated to providing pricing that is as simple and straightforward as possible. As a result, we provide a single pricing for your Hyderabad cab that includes a set number of kilometres and days. So you know ahead of time how much a cab will cost you and can budget accordingly.
Cab Near By Your Location:
Gachibowli,Shamshabad,Kukatpally,Mallapur,Hi Tech City,Habsiguda,Jubilee Hills,Secunderabad,Banjara Hills,Manikonda,Uppal Kalan,Ameerpet,Shamirpet,Sainikpuri,Srinagar Colony,Nagar,Abids Road,Adarsh Nagar,Adikmet,Afzalgunj,Agapura,Ahmed Nagar,Akbar Road,Alexander Road,Aliabad,Alwal,Amberpet,Ameerpet X Road,Anand Bagh,Anand Nagar Colony,Ashok Nagar,Asif Nagar,Attapur,Attapur Ring Road,Auto Nagar,nizamabad,Azampura Masjid,Baber Bagh,Bachpally,Badichowdi,Bagh Amberpet,Bagh Lingampally,Bahadurpura,Bahadurpur Pally,Bairamalguda,Bakaram,Bala Nagar,Balapur,Balkampet,Bandimet,Bandlaguda,Bank Street, BansilalPet,Bansilalpet,Bapuji Nagar,Barkas,Barkatpura,Basheerbagh,Bazarghat,Begum Bazar,Bhagya Nagar Colony,Bharat Nagar,Bhel,Bholakpur,Bk Guda,Bod Uppal,Boggulakunta,Bolaram,Borabanda,Boudha Nagar,Bowenpally,Boyiguda,Chaderghat,Chaitanyapuri,Champapet,Champapet X Road,Chanchalguda,Chanda Nagar,Chandrayangutta,Chandrayangutta,Chappel Bazar,Chappel Road,Char Kaman,Charkaman,Charlapally,Charminar,Chatta Bazar,Cherlapally,Chikkadpally,Chilkalguda,Chintal,Chintal Basti,Chintalkunta,Chirag Ali Lane,Chudi Bazar,Gulzar House,Gun Foundry,Gun Rock,Gunfoundry,Hafiz Pet,Hakimpet,Hanuman Tekdi,Haribowli,Hasmatpet,Hastinapuram,Hayat Nagar,Hill Fort,Hill Fort Road,Hill Street,Himayat Nagar,Himayat Nagar X Roads,Himayat Sagar,Hmt Nagar,Hmt Road,Humayun Nagar,Hussaini Alam,Hyder Basti,Hyder Nagar,Hyderabad Central,Hyderguda,Ibrahim Bagh,Ibrahimpatnam,Inderbagh,Indira Park,Jagadgirigutta,Jagdish Market,Jahanuma,Jambagh,Jamia Osmania,Jawahar Nagar,Jawaharlal Nehru Road,Jeedimetla,Jaggamguda,Jama I Osmania,Jillellaguda,Karwan Sahu,Kachivani Singaram,Kattedan Ie So,Keesara,Keesaragutta,Keshogiri SO,Khairatabad HO,Kingsway,Kismatpur,Kolthur,Korremal,Kulsumpura,Kyasaram,Lalgadi Malakpet,Mehdipatnam,Old City,Pratap Singaram,Qazipura,RC Imarat So,Rahmath Nagar,Rail Nilayam,Raj Bhavan,Rajbolaram,Ag College,AG Office,A.Gs Staff Quarters,Amber Nagar,Kachi,Kachiguda,Kachiguda X Road,Kakaguda,Kakatiya Nagar,Kalasiguda,Kali Kabar,Kali Kaman,Kalyan Nagar,Kamala Nagar,Kamala Puri Colony,Kamla Nagar,Kanchanbagh,Kandoji Bazar,Kapra,Karimnagar,Karkhana,Sai Nagar,Karman Ghat,Karmanghat,Karmanghat X Roads,Karvan,Karwan,Kavadiguda,Keshavagiri,Khairatabad,Kharkhana Main Road,King Koti,King Koti X Road,Kishan Bagh,Kishangunj,Kompally,Kondapur,Kothaguda,Kothapet,Kphb,Kphb Colony,Krishna Nagar,Kukatpally Colony,Kummarguda,Kundan Bagh,Kushaiguda,Kattedan,Kavadi Guda,L B Nagar,L B Stadium,L B Stadium,Lad Bazar,Lakdi Ka Pul,Lal Bazar,Lal Darwaza,Anand Nagar,Ananthagiri,Andhra Mahila Sabha,Aperl,APHB Colony Moulali,Atvelli,Badangpet,Begumpet,Begumpet Police Lines,Bharath Nagar Colony,Boduppal,Bogaram,Central Police Lines,Chanchalguda Colony,Chandulal Baradari,CRP Camp,Cyberabad,Dargah Hussain Shah Wali,Darushifa,Dattatreya Colony,Dhoolpet,Fathenagar Colony,Gajularamaram,Gandhi Bhavan,Girmapur,Golconda Chowrastha,Saidabad,Saifabad,Saleem Nagar,Sanath Nagar,Santosh Nagar,Saroor Nagar,Sebastian Road,Secretariat,Seetharambagh,Serilingampally,Shah Ali Banda,Shahpur Nagar,Shaikpet,Shahpur Nagar,Shamshergunj,Shanker Bagh,Shanker Mutt,Shanti Nagar,Shivam Road,Shivarampally,Siddarth Nagar,Siddiamber Bazar,Sikh Road,Sikh Village,Sikh Village Road,Sindhi Colony,Sitaphal Mandi,Somajiguda,Somajiguda Circle,Sri Krishna Nagar,Sri Srinivas Colony,Srinagar,Srinagar Colony Main Road,Srinivasa Colony,Srinivasa Nagar,Srinivasa Nagar Colony,St. Johns Road,St. Marys Road,Subash Road,Sultan Bazar,Surya Nagar Colony,Shapur Nagar,Shivaji Nagar,TadBund,TadBund X Road,Talab Katta,Talabkatta,Tank Bund,Tank Bund Road,TarBund,TarBund X Road,Taranagar,Tarnaka,Tilak Nagar,Tilak Road,Tobacco Bazar,Toli Chowki,Topkhana,Trimulgherry,Trimulgherry X Road,Troop Bazar,Uppal,Uppuguda,Vanasthalipuram,Vasavi Nagar,Vengal Rao Nagar,Venkatapuram,Vidyanagar,Vijay Nagar Colony,Vikas Nagar,Vikrampuri,Vikrampuri Colony,Vinayak Rao Nagar,Vithalwadi,Warasiguda,West Marredpally,Yakutpura,Yapral,Yellareddyguda,Yousuf Bazar,Yousufguda,Zamistanpur,Tirumalgherry,Hyderabad Airport 1,Hyder Shah Kote,Hyderabad GPO,Hyderabad Jubilee HO,Hyderabad Public School,I.E.Nacharam,I.M.Colony,Ibrahim Bagh Lines,Ie Moulali,IICT,D D Colony,Dabeerpura,Dabeerpura North,Dar Ul Salam,Darul Shifa,Defence Colony,Devan Devdi,Dhan Bazar,Dharam Karan Road,Diamond Point,Dilshad Nagar,Dilsukhnagar Main Road,Distillery Road,Domalguda,Doodh Bowli,Dr. A.S Rao Nagar,Dwarkapuri Colony,East Anand Bagh,East Marredpally,ECIL,Ecil Post,Ecil X Roads,Edi Bazar North,Erragadda,Erramanzil,Lalapet,Erramanzil Colony,Esamia Bazar,Falaknuma,Fateh Darwaza,Fateh Maidan,Fateh Nagar,Feel Khana,Feroz Guda,Film Nagar,Gaddi Annaram,Gaddi Annaram X Roads,Gagan Mahal,Gagan Pahad,Gandhi Nagar,Gandhipet,Gandhipet Road,General Bazar,Ghansi Bazar,Ghasmandi,Ghatkesar,Golconda,Golconda X Roads,Gosha Mahal,Gowliguda,Gowliguda Chaman,Green Lands,Green Park Extension,Gudimalkapur,Gudimalkapur New Po,Lallaguda,Langer House,Liberty,Lingampalli,Lingampally,Lothukunta,Lower Tank Bund Road,M G Road,Machili Kaman,Madannapet,Madhapur,Madhura Nagar,Madina,Madina Guda,Mahankali Street,Maharaj Gunj,Mahatma Gandhi Road,Mahendra Hills,Malakpet,Malakpet Extension,Malkajgiri,Mallapur,Mallapuram,Mallepally,Mallepally North,Mangal Hat,Mansurabad X Road,Market Street,Marredpally,Maruthi Colony,Maruthi Nagar,Masab Tank,Medchal,Meerpet,Mehboob Gunj,Mehboob Nagar,Mehdipatnam X Road,Mettu Guda,Minister Road,Miralam Mandi,Miyapur,Mogulpura,Moinabad,Monda Market,Moosabowli,Moosapet,Moosaram Bagh,Moosaram Bagh X Road,Moti Nagar,Moula Ali,Mozamjahi Market,Mughalpura,Muktargunj,Murad Nagar,Musheerabad,Mylargadda,Nacharam,Nagarjuna Hills,Nagarjuna Nagar,Nagarjuna Sagar Road,Nagole,Nagole X Road,Nallagutta,Nallakunta,Namala Gundu,Nampally,Nampally Station Road,Narayanaguda,Narayanguda,Nayapul,Necklace Road,Nehru Nagar,Neredmet,Neredmet Cross Road,New Bowenpally,New Boyiguda,New Malakpet,New Nagole,New Nallakunta,New Nallakunta X Road,New Osmangunj,Nimboliadda,Nizam Shahi Road,Nizamabad,Nizampet,Nizampet Road,Noor Khan Bazar,Old Alwal,Old Bowenpally,Old Boyiguda,Old Ghasmandi,Old Jail Street,Old Malakpet,Old Topkhana,Osman Shahi,Osmangunj,Osmania University,Padma Rao Nagar,Palika Bazaar,Pan bazar,Panjagutta,PAnd T Colony,Paradise,Paradise Circle,Parklane,Parsigutta,Patancheru,Patel Market,Pathergatti,Patny,Penderghast Road,Picket,Pot Market,Pragathi Nagar,Prakash Nagar,Prasanth Nagar,Purana Pul,Putli Bowli,R R District,Raj Bhavan Road,S P Road,S R Colony,S R Nagar,Safilguda,Sagar Road.